I call the following a Data Jockey's Ordeal !
A typical Excel Report or Dashboard goes through 3 essentials phases
You get Data from multiple sources, consolidate it, clean it (vlookup, filter, add-delete columns or rows and bunch of other mundane repetitive tasks..)
Then Analyse it - Formulas / Pivots
Finally Present it - Graphs / Charts & PPTs
Nearly 80% of the time is consumed in performing repetitive data cleaning tasks!
The worst part.. you've gotta do this each day, each week, each month in-fact each time you need to create the report
Most people of think of solving this problem using... VBA (creating a Macro in Excel). Not a bad idea but not that good as well. 3 Major problems that you'll run into
VBA can't handle large data sets - It tends to be as slow or slower than Excel
VBA is hard to learn - The grammar of VBA, the syntax, the logic building takes a long time to master
VBA Code will break from even the slightest change the data structure.
And you are back to manual data cleaning.
Consider my solution..
Learn Power Query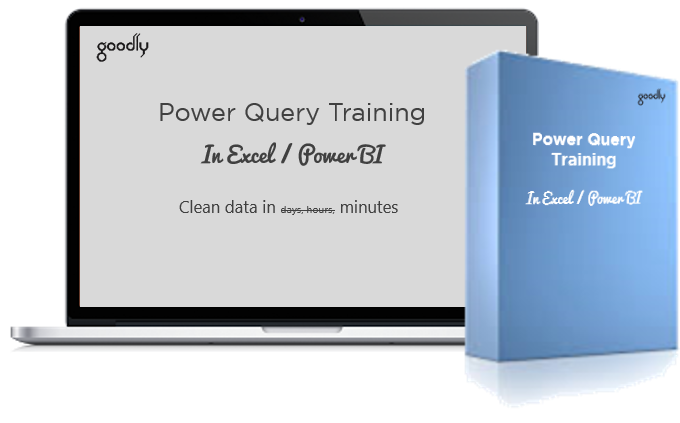 3 awesome things about Power Query that you can't ignore
Power Query is a mind blowing tool to clean and automate data cleaning process
It's free and is already built into Excel and Power BI
It is damn easy to learn!
In the last few years I have taught hundreds of people, how to use power query to solve data cleansing and automation problems.
Now it may sound like that I am exaggerating but the major benefit that all of my students got that how much time they saved by automating repetitive tasks.
With one click!
3 people x 3 hours per day for 5 days = 45 hrs saved per week for only on a single task!
I am sure you'd want that.. wouldn't you?

If you don't believe me see this simple example of combining data from multiple excel files... Imagine how much time would you take to do this manually each day.
I solved this problem using Power Query (this is an actual video from the course)
Power Query Course
Power Query is going to be new for you.. you will need help from scratch. That's why I have put together this course which teaches you how to work with Power Query and set up automation right from Scratch.
The course is divided into 2 parts
Part 1 The Fundamentals (21 Lessons) - These are short easy case studies to learn the most important features of Power Query from scratch
Part 2 Practical Case Studies (15 Lessons) - These are more advanced close to real life case studies to apply the learning from Part 1 on how to automate your repetitive tasks
Bonuses Included..
Excel Crash Course for 2+ Hours ($99) - Most important Excel Formulas, Shortcuts & Pivot Tables
Life time access to both course - Power Query + Excel Crash Course
Access to all future course updates
Come learn Power Query with me